About the book
Pizzeria Disgusto will be a new cartoon book by Michael Hacker. It's a collection of illustrations about the weird and funny side of Italian cuisine. 80 pages full of puns and wordplays about Pizza, Pasta & Co…
There is a Kickstarter campaign from 9 May to 9 June 2017 to make this book possible!
80 pages
– Full color – Hardcover – 170 x 210mm
Here are some appetizers. Buon appetito!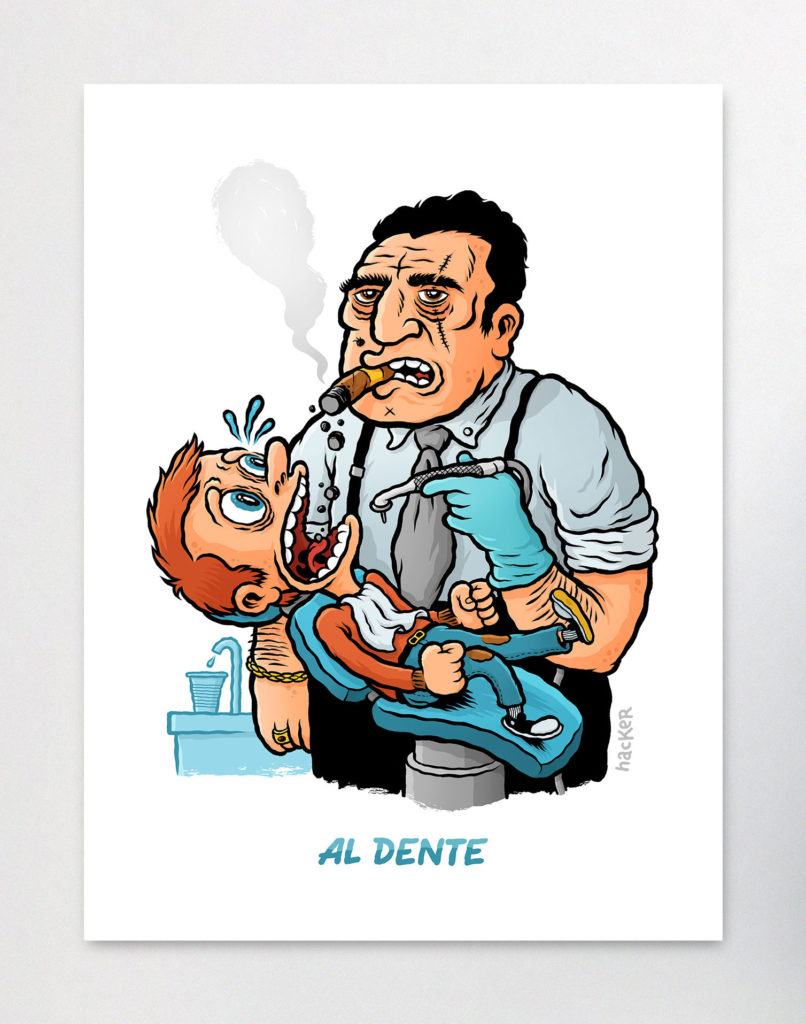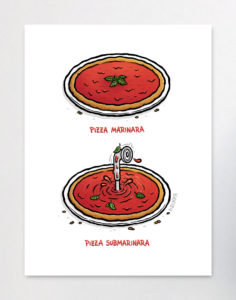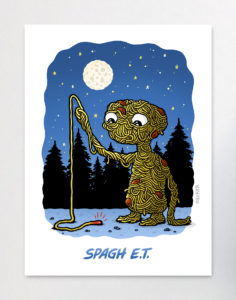 About the crowdfunding campaign
The crowdfunding campaign will start on Tuesday 9th May and will last for 30 days. As soon as it starts you'll find all details about the book and rewards on the Kickstarter page.
By backing the Kickstarter you'll be the first ones to get the book and you'll help to make this book a reality. All the money will be going into printing, shipping and making the rewards. Some of which are exclusivly available during this campaign.
If you have no credit card and still want to support the book please drop me a mail and I'll write you back about other payment possibilities.
___
About the author
Michael Hacker is an illustrator and comic artist from Austria. He has worked for bands such as Queens of the Stone Age, Green Day, Kvelertak, Dinosaur Jr., Mastodon and The Melvins. His clients include Penguin Books, Red Bull, Mercedes, Slash Snowboards and Dogfish Head. And his illustrations appeared in magazines like Vice, Kerrang!, Nido and GEOlino.
___
You can follow Michael on Facebook or Instagram. Or you can subscribe to his newsletter.
___
Italiano
"Pizzeria Disgusto" è un nuovo fumetto di Michael Hacker, una raccolta di illustrazioni sul lato strano e divertente della cucina italiana. Sono 80 pagine piene di giochi di parole illustrati su Pizza, Pasta e altre prelibatezze italiane.
Dal prossimo 9 maggio, per una durata di 30 giorni, comincerò una campagna Kickstarter per rendere possibile la realizzazione di questo libro! Appena avrà inizio troverai tutti i dettagli sulla mia pagina Kickstarter.
Supportando il Kickstarter sarai il primo ad avere il libro e mi aiuterai a renderlo una realtà. Tutto il denaro sarà investito nella stampa, spedizione e realizzazione dei premi, alcuni dei quali saranno disponibili esclusivamente durante questa campagna.
Grazie mille e… buon appetito!
___